Emptiness and Social Action with Greg Snyder
The Thích Nhất Hạnh Program for Engaged Buddhism invites you to join us for our monthly Dharma Talk Series: Emptiness and Social Action. Over the course of nine months, a wide array of Buddhist teachers will take us into the essential teachings of the Buddhadharma and what it looks like to move into action to address the dissatisfaction, distress, and suffering that we meet in relationship with the earth, people, and systems today, in the United States, and around the world.
How does conceptual, inferential, and experiential knowledge into emptiness of an inherent self invite for a response to circumstances that are stressful, painful, and violent? Each evening will be unique, with a combination of a dharma talk, meditation, and a question and answer period exploring these essential and vital questions within Buddhism and our lives' for this moment in time.
---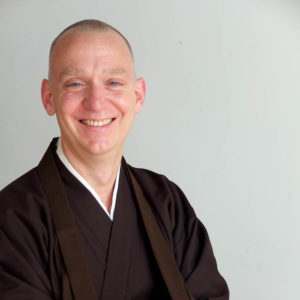 Greg Snyder is a dharma teacher and senior priest at Brooklyn Zen Center, as well as its co-founder and a current Board Member. He is also the Senior Director of Buddhist Studies at Union Theological Seminary, where he directs and teaches in a Masters of Divinity program focused on Buddhism and Inter-religious Engagement. Greg received priest ordination and dharma transmission from Teah Strozer and is a lineage holder in the Suzuki Roshi lineage of Soto Zen. Greg is active with multiple interfaith and community networks organizing around peace-building, anti-violence and social justice initiatives, and currently sits on the Brooklyn Borough President's Advisory Council on Faith-based and Community Partnerships. Greg's practice of Zen and the dharma includes an understanding that personal and social liberation are a deeply integrated process of mutual unfolding. In addition to teaching in a formal Zen context, he facilitates Undoing Whiteness and Undoing Patriarchy workshops and ongoing groups that focus on investigating self-identities that may unconsciously perpetuate societal suffering. His efforts include ensuring the dharma is truly available to everyone, supporting young people in practice, developing a community-responsive Zen center, and advocating for bringing the illumination of conditioning around patriarchy, racism and economic exploitation to the center of our Buddhist exploration of self. He is devoted to co-creating an American dharma movement that fully embraces a deep social engagement focused on transforming inequity, bias and violence in ourselves, our communities and the world.