Mary C. Boys '75, '78
Vice-President of Academic Affairs and DeanSkinner & McAlpin Professor of Practical Theology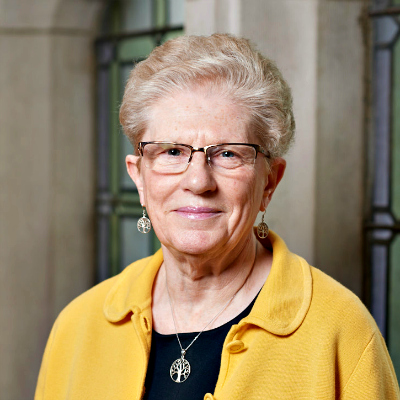 Contact
3041 Broadway, AD 111
New York, NY 10027
212-280-1550
mboys@uts.columbia.edu
Education
B.A., Fort Wright College of the Holy Names 1969
M.A., Columbia University and Union Theological Seminary 1975
Ed.D., Columbia University and Union Theological Seminary 1978
L.H.D., Hebrew Union College 2004
D.Th., Catholic Theological Union 2006
Biography
Professor Mary C. Boys has been the Skinner and McAlpin Professor of Practical Theology at Union Theological Seminary, New York City since 1994. She also serves as an adjunct faculty member of the Jewish Theological Seminary of America. Prior to her present appointment, she served for seventeen years on the faculty of Boston College.
She received her master's and doctoral degrees from Columbia University in a joint program with Union Theological Seminary. She has also done advanced study at the Ecumenical Institute for Theological Research in Jerusalem, Israel.
Professor Boys is the recipient of honorary doctorates from Hebrew College-Jewish Institute of Religion (2004), The Catholic Theological Union (2007), The Jewish Theological Seminary of America (2011) and Gratz College (2012). She was the recipient in 2005 of the Sternberg Award from the International Council of Christians and Jews.
Professor Boys has served as visiting Lecturer of Religious Education at Princeton Theological Seminary, Claremont School of Theology, John Carroll University, Villanova University, and St. Mary's College (London, England). She has been a Lilly Research Fellow and was a Henry Luce III Fellow in Theology for 2005. She is a member of the editorial boards of the Studies in Jewish-Christian Relations, and has also served on the editorial boards of The Journal of Religious Education (Australia), Teaching Theology and Religion, and Religious Education. 
With Professor Sara S. Lee, Boys served as co-director of the Lilly Endowment-sponsored "Religious Particularism and Pluralism" project that involved Jewish and Catholic educators and academics.
Professor Boys is a member of the boards of the Tanenbaum Foundation for Interreligious Understanding, the Suenens Foundation, and the National Catholic Center for Holocaust Education. Formerly, she served on the board of the Catholic Theological Society of America and on the advisory committee for the Secretariat for Ecumenical and Interreligious Affairs of the United States Catholic Bishops.
Of the many lectures, workshops, and panel discussions in which she has participated over the course of her career, in 2004, these venues provided a channel to address the controversy over Mel Gibson's film, The Passion of Christ. Amid the media frenzy, Prof. Boys gave numerous radio, television, and newspaper interviews, including interviews with the New York Times, Newsweek, and U.S. News and World Report, tapings for National Public Radio and live interviews on many other radio stations, including ones in Canada and Israel. She appeared on PBS, the Today Show, News Night, CNN and a Hallmark Channel special.
Professor Boys is the author of five books: Biblical Interpretation in Religious Education (1980), Educating in Faith: Maps and Visions (1989), Jewish-Christian Dialogue: One Woman's Experience (1997), Has God Only One Blessing? Judaism as a Source of Christian Self-Understanding (2000), and Christians and Jews in Dialogue: Learning in the Presence of the Other (2006), co-authored with Sara S. Lee. (find book). Her four edited books include Ministry and Education in Conversation ((1981), Education for Citizenship and Discipleship (1989), Seeing Judaism Anew: A Sacred Obligation of Christians (2005) and the co-edited volume Christ Jesus and the Jewish People Today (2011). Forthcoming in early 2013 will be her book Redeeming our Sacred Story: The Death of Jesus and Relations between Jews and Christians.
Professor Boys has also published some eighty-five articles in books and journals such as Concilium, Horizons, Religious Education, Biblical Theology Bulletin, Cross Currents, SIDIC, the Journal of Ecumenical Studies, Midstream, the Dictionary of Jewish-Christian Relations, and the Encyclopedia of Women and Religion in North America.
A Seattle native, Professor Boys has been a member since 1965 of the Sisters of the Holy Names of Jesus and Mary, a congregation of Roman Catholic women.
Recent Courses
Faith Journeys and the Religious Education of Adults (Spring 2016)
Educating Adults: Theoretical Frameworks and Best Practices (Fall 2017)
Studies in Jewish-Christian Relations (Spring 2018)