Union is very proud of alumna, Rev. Dr. LaKeesha Walrond who serves as President of New York Theological Seminary (NYTS). In the words of Union President Rev. Dr. Serene Jones, "LaKeesha is a phenomenal leader – her brilliance, organizational smarts, and her open spirit make her the perfect leader for NYTS at this moment in time."
Reflecting on her leadership journey, Walrond, who grew up in Texas, shared that all the maternal figures in her life including her mother, grandmother, and great grandmother continually emphasized that she could do anything and be anything. "Excellence was expected of me because of the prayers of our ancestors – I am a product of prayer." When she left Texas to go to Spelman College in Atlanta, Spelman's then President, Johnetta Cole talked about Spelman being a women's institution that honors the lives of women. Walrond said, "At Spelman, we heard not only about heroes but also about 'sheroes,' and we were taught not only about history but also about her-story." Hearing Cole's passion, and the way she spoke with power and influence brought her to tears. She shared,
"When my mother told me that I could be anything that I wanted, for me, it was in the context of what I had seen in Texas. President Cole expanded my capacity to imagine and by the time I left, my goal was to become the President of Spelman College. I wanted to do for other women what Dr. Cole had done for me. She placed me on a path to not accept 'no' for an answer and to never give up."
Walrond went on to get her Master of Arts in Teaching, Master of School Administration and PH.D in Education and Literacy at UNC-Chapel Hill. She worked in the public schools in North Carolina and ultimately became the youngest principal in Durham. It was then that she experienced a call into ministry.
"I always had love for God and the church and when my husband got called from our church in North Carolina to FCBC in New York, I was surprised that the Trustees offered me the role of Executive Pastor two years after our arrival," said Walrond. "I began working full-time at First Corinthian Baptist Church (FCBC) where we had a large facility with a small membership. We took the Matthew 25 mandate – to feed the hungry, clothe the naked, and visit those in prisons and hospitals to heart and worked to build the church with a focus on social justice. The church grew from about 200 to over 10,000 members in a 10 year period. During that time, I developed women's programming and ministry leadership programming. We conducted mission work in India, and Africa, and I established Getting to Greatness (G2G), a traveling women's conference which promotes women's empowerment, leadership development, spiritual wellness and mental and psychological wholeness."
In 2019, Walrond received the invitation to apply for the role of President of New York Theological Seminary.  Although she was surprised at first to receive this invitation, she prayed on it, then went ahead and submitted her letter of interest. NYTS extended her the offer making Walrond the first woman and first African American woman to serve as President in NYTS's 119-year history. "I felt like I had been training for this seat my whole life. My love and passion for education, church, faith, and spirituality lead me to be perfectly suited to lead an academic institution that is grounded in faith," stated Walrond. "Engaging with faith and thought leaders to advance revolutionary ministry feels like the best of both worlds – church and academia. I love NYTS because it was started by Wilbert Webster White who got his degree from Yale and felt that it had not prepared him for ministry on the ground. NYTS is a place that is intentional about rigorous theological education and also practice. We equip our graduates with what they need to be effective faith leaders in cities across the globe."
Speaking of the challenges she encountered as a Black woman on her leadership journey, Walrond shared,
"My mother, grandmother, and great grandmother, as women of faith, encouraged me to push past no. We constantly hear 'no,' or 'wait a little longer,' or 'it's not your time yet.' I am the first Black woman president of a 122-year-old institution – that speaks of the challenges women face on a daily basis. I grew up in church – I was at church all the time. I loved God and the church but I had always been taught that God doesn't call women to preach. I took that to heart. In my freshman year at Spelman, I took a class on Women in the Bible with Rev. Dr.  Flora Wilson Bridges who challenged everything I knew about God.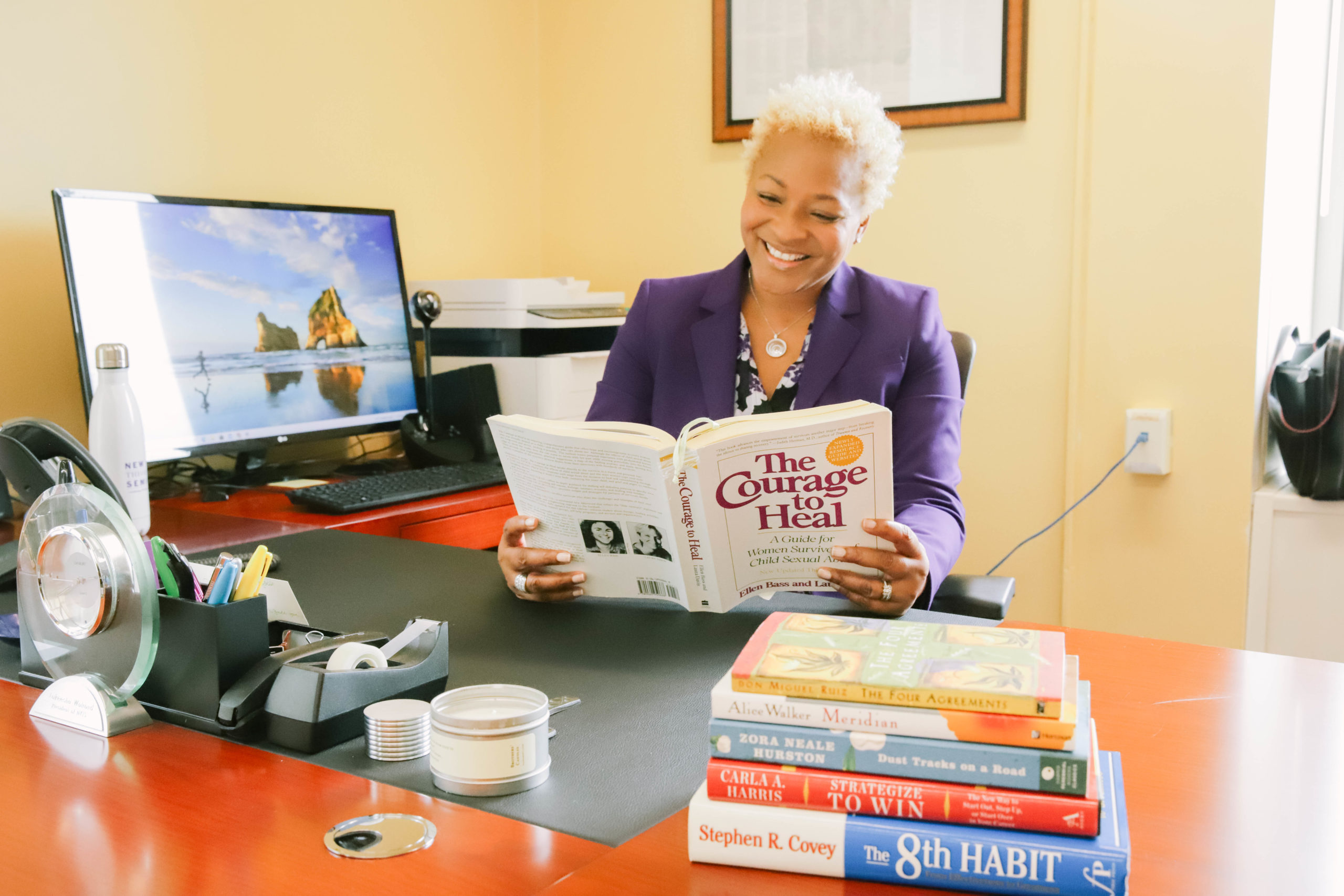 She pushed me to use inclusive language. I was struggling with the decision about whether to engage in this new learning or to hold on to what I think I knew. In the last weeks of class, I was failing. Dr. Bridges extended extra credit to students who attended her preaching engagement at King Chapel at Morehouse College.  I went solely with the goal of securing extra credit. When she started preaching, there was so much anointing, passion, fire, I felt like I was frozen, and started sliding down in the seat uncontrollably. By the time she finished her sermon, I was on the floor in King Chapel just crying – all I could think was they lied to me. All the pastors, associate pastors, deacons, trustees, and my family had all lied to me. I was angry, disillusioned, and heartbroken but that hurt gave me the permission to question everything – to wonder what else had been misrepresented?
"At 18 years old that experience provided me a pathway to question everything.  I might have a door closed today but I am always looking for the next door. I learned to never give up, to question what I think I know, question my own faith, and what I believe."
Union's Rev. Dr. Delores Williams, with her book, Sisters in the Wilderness and the work she did also taught Walrond that the methods people use to try to minimize us, are the very avenues that can allow God to maximize us. She reminds us to not allow ourselves to be limited by the opinions of others, but instead to strive to live the life God is calling us to live. What a gift! If we question ourselves enough, we will be able to stand in our own authenticity, creativity, and not be ashamed to be who we are called to be. We must resist the urge to fit in the box that has been created for us and trust that every no is leading you closer to a yes.  Our responsibility is to be prepared for the yes and to step into it."
Reflecting on her time at Union, Dr. Walrond shared,
"I was attracted to Union because of its focus on social justice. I considered NYTS because of their urban ministry focus but could not commit to the evening classes due to my work schedule. Certainly, the opportunity to study with Rev. Dr. James Cone, whom we miss so much, was also a factor in my decision. Having studied with Dr. Cone to this day remains a gift that still keeps giving. Finally, although I did not know President Serene Jones at that time, the fact that Union had appointed its first woman President also drew me to its doors. While at Union and post-graduation I got to know Serene and her work – there is something to be said about having a President who is brilliant, prepared, equipped, and also a woman. She is amazing."
When asked about other experiences at Union, Walrond shard,
"There were many gifts that I received from Union. One of the best gifts was from taking a class called Loosening the Canon with Rev. Dr. Hal Taussig. After taking that class I began teaching bible studies at FCBC on text that were excluded from the Bible, including the Gospel of Mary, The Acts of Paul and Thecla, The Gospel of Thomas, and the Diary of Perpetua. This allowed me to open a door that expanded my understanding of scripture. As we begin to value those excluded stories, we can value our own stories even more. Union gave me so many gifts that had a tremendous impact on me and the community I was serving," said Walrond.
Reflecting further on her time at Union, Walrond said,
"Because of Union's focus on interreligious engagement, I also learned how to talk about God to a broader audience in a way that didn't threaten our faith. By the time I left Union, I believed in the God of many names. I understood that Abraham was the father of three faith traditions. I learned that God was not just the God of Abraham, Isaac, Jacob, but he was also the God of Rebecca, Sarah, Leah, and Rachel.  This expansion allowed me to respect people from Hindu, Muslim, Jewish and all faith communities. We are all connected to the same God which means we are all connected to each other. This is one of the greatest gifts that Union gave me."
When asked what advice she would give to people considering a path to ministry, she shared,
"Ministry is some of the most rewarding work you will ever do, and it changes you if you give yourself to it, immerse yourself in it, and remain open to evolving. Faith is about growth, and as you grow, your authenticity becomes your superpower. Find your own voice,  engage in that fully, and save something for yourself. One of the most important things you can do to advance your ministry is to take care of yourself. We value taking care of people but don't always place enough value in taking care of ourselves. Save some time for yourself, take a vacation, take a break, because the most effective way you can do ministry is when you are healthy. Remember that this is God's work which means you are picking up where someone else left off and when you leave someone else will pick up where you left off. Every minister should talk to somebody who is trained – I believe in prayer but also believe that when we have challenges, we should see a therapist – someone who is trained to deal with issues of heart and mind. You don't have to be in crisis to go to therapy. And get a good hobby, some good friends, and have some fun. Make sure you have balance as you move forward in faith."