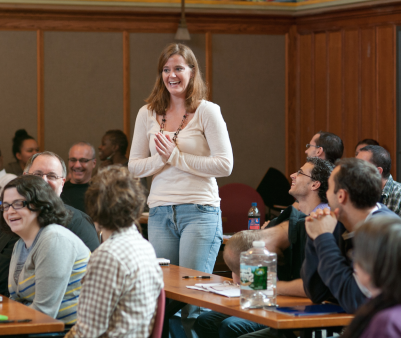 Beginning in the summer of 2012, Union Theological Seminary launched a new phase in its "Stronger Global Union" strategic planning process focused explicitly on renewal of its present facilities. The first step in this process was the creation of a "Master Plan Task Force" designed to guide the process and to ensure that at each step along the way, various constituents from the Union community are represented and included in the deliberative process. The full constituency includes Board members, administrative staff, faculty, and students. We strongly believe that including diverse voices will lead to better decision-making and, in the long run, will produce a stronger, more effective Master Plan. The Master Plan Task Force will make recommendations to the Board of Trustees, which is ultimately responsible for our facilities and for approving a Master Plan.
Given the complexity of developing and implementing a comprehensive Master Plan for a campus as challenging as Union's, we anticipate the process will take three to five years to complete. During the process, the Task Force will reflect upon a wide range of issues including the Seminary's educational mission and future needs, finances, development possibilities, architectural challenges, community involvement, and historic preservation concerns. While it is difficult to predict, at this early stage, where these conversations will lead, the Task Force believes it is important to identify a set of guiding principles that will inform the Plan's development from start to finish.
We offer our Ten Guiding Principles below:
Mission-Driven: The core mission of Union is to educate people for leadership in religious communities and in the broader world. The Master Plan will be true to that mission by asking, first and foremost, if the plan advances that mission, with respect to academic excellence, spiritual formation and world engagement.
Current Location: Union is firmly committed to staying in our present location and will "recreate ourselves in place."
Environmental Sustainability: We are committed to creating a learning environment that is ecologically responsible and aligned with Union's mission to promote the "care of God's creation."
Aesthetic Integrity: We are committed to creating a campus that is majestic and, in its beauty, encourages the community to embody, in its life and its practices, the wonder of the creation we celebrate. This includes an abiding respect for the magnificence of our present buildings and grounds.
Historical Preservation and Adaptive Reuse: Union is blessed with buildings that are historically significant and situated in a neighborhood rich in history. Our Master Plan will reflect our respect for this history and the importance of its preservation for generations to come.
Interconnectivity and Interdependence: The plan will foster our academic mission by supporting and creating interdisciplinary connections with enterprises beyond our walls. We will seek to develop strategies to improve connections with our peer institutions.
Accessibility and Hospitality: The boundaries of the seminary are clearly delineated and well defined. Entrances should create an identifiable and welcoming impression of hospitality.
Fiscally and Socially Responsible: The Seminary will pursue practical, responsible strategies in the development and implementation of the Master Plan that balance financial realities with its core mission.
World-Class Technology: Our curricular and infrastructural renewal must include consideration of our technological needs and a commitment to building a digital infrastructure that will adequately support the usage of new communications and media tools in our pedagogical and administrative work.
Transparency and Accountability: The process of developing and implementing the Master Plan must be transparent and reflect the core needs and concerns of the community. Every opportunity to engage key constituents in the process must be explored.