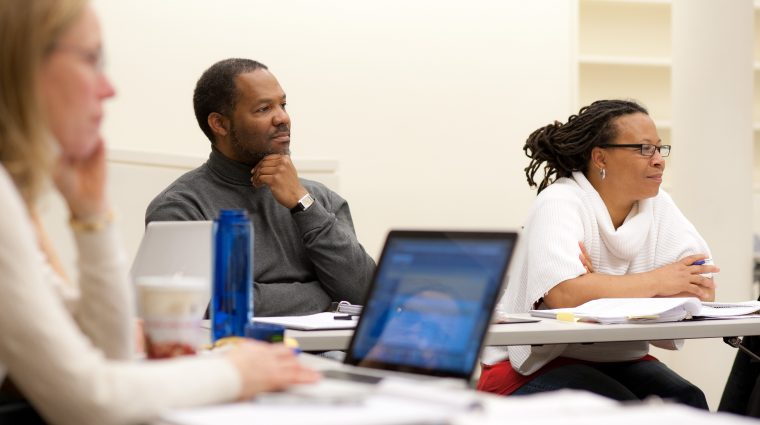 Advanced Certificate Programs
Interested in personal study and professional development? Today's business culture and society have increasingly become challenged by the realities of suffering and injustice that affect us all. Now, more than ever, conscientious individuals understand the intersection between social ethics, religion and spirituality as a means to achieving a more just society. Through Union Theological Seminary's advanced certificate programs you will gain awareness and knowledge of existing power dynamics and oppressive structures in terms of gender, sexuality, race, class and identity through a foundational lens of one or more religious traditions.
Union's advanced certificate programs are designed for students who want to apply spiritual and theological learning to practical societal application. The four-course, twelve-credit graduate program can be completed in as little as one year. Certificates may serve either as a stand-alone credential for those interested in a particular area of focus or as a stackable credential that can later be applied toward a full seminary master's degree. Union currently offers certificates in two areas: Social Justice and Interreligious Engagement.
Areas of Study
Advanced Certificate in Social Justice
Designed for anyone interested in exploring the intersections between social ethics, religion and spirituality, and the ongoing struggle for a more just society.
Learn More
Advanced Certificate in Interreligious Engagement
Designed for anyone interested in exploring the theory, method, and approaches of Interreligious Engagement—particularly as it relates to the promotion of a more just and equitable society.
Learn More
Admissions

A student is eligible to apply for this program if they have a bachelor's degree or its equivalent from an accredited college or university, and a record of high achievement. Prior study in the field of religion is not required, but strong preparation in liberal arts studies is expected.

To apply, students are required to submit a $75 application fee, online application form, a statement of purpose, transcripts, CV or resume and letter of reference.

The total tuition cost for the certificate program is $10,000, which breaks down to $2,500 each for the four, required, three-credit courses. This tuition rate represents a discount of more than 35% off of our standard, per credit tuition. Students wishing to receive a physical copy of the certificate upon graduation/completion of the program will be charged an additional, minimal fee.

Stackable approach to learning

As accredited, post-baccalaureate, graduate-level programs, the advanced certificates are stand-alone credentials that can fulfill personal or professional development goals. The advanced certificates may, however, serve as stackable credentials to further graduate study. Anyone who completes an advanced certificate and later decides to pursue one of Union's Master's degrees, for example, will be given the option, upon successful enrollment, to request that the twelve completed credits be applied to the appropriate program requirements.
GET THE LATEST NEWS AND EVENTS IN YOUR INBOX