Rev. Serene Jones, MDiv, PhD
President of Union Theological Seminary
and Johnston Family Professor for Religion & Democracy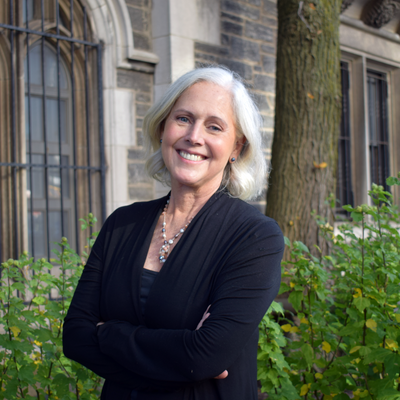 CONTACT
3041 Broadway, AD 129
New York, NY 10027
212-280-1403
presoffice@uts.columbia.edu
EDUCATION
B.A., Summa Cum Laude, Phi Beta Kappa, University of Oklahoma, 1981
M. Div., Summa Cum Laude, Yale Divinity School, 1985
Ph.D., Yale University, 1991
BIOGRAPHY
A highly respected scholar and public intellectual, the Rev. Dr. Serene Jones is the 16th President of the historic Union Theological Seminary in the City of New York. The first woman to head the 186-year-old institution, Jones occupies the Johnston Family Chair for Religion and Democracy. She is a Past President of the American Academy of Religion, which annually hosts the world's largest gathering of scholars of religion. Jones came to Union after seventeen years at Yale University, where she was the Titus Street Professor of Theology at the Divinity School, and Chair of the University's Program in Women, Gender and Sexuality Studies. She is the author of several books including Trauma and Grace and, most recently, her memoir Call It Grace: Finding Meaning in a Fractured World. Jones, a popular public speaker, is sought by media to comment on major issues impacting society because of her deep grounding in theology, politics, women's studies, economics, race studies, history, and ethics.
More information about her RECENTLY RELEASED memoir, Call It Grace
"Theology is a place and a story. Theology is the place and story you think of when you ask yourself about the meaning of your life, of the world, and the possibility of God."
So begins Serene Jones' memoir of raw truth, fierce love, and spiritual teaching, the balm our nation's fractured soul needs. From her Oklahoma roots to her historic leadership of Union Theological Seminary, her story illuminates the deep fault lines of this age–and points beyond them. With a voice that is at once frank and poetic, humble and prophetic, intimate and practical, Jones makes complex teachings around hatred, forgiveness, mercy, justice, death, sin, and grace understandable and immediately applicable.
Excavating the wisdom of great theological voices–Soren Kirkegaard, Reinhold Niebuhr, John Calvin, James Baldwin, James Cone, Luce Irigaray, Saint Teresa of Avila–she brings them to life with an intimacy and vividness that illumines our lives and present culture. At the same time, and with great beauty, Call It Grace reveals Serene Jones as a towering voice of a new, and urgently necessary, public theology for this century.
Recent Courses
UT 101
Introduction to Theological Studies
SEPTEMBER 2020, FALL 2021
This course is primarily designed for entering students as an introduction to the major themes, concepts, and controversies within the fields of theological study, including Christian theology, social ethics, biblical studies and the study of sacred texts, church history, practical theology (including preaching, worship and arts, education, religion and society, andspiritual care), and interreligious engagement (including Buddhism and Islam studies). Students engage in lively dialogue with Union faculty from a variety of disciplines through video and live interviews, and discussion forums.
Co-taught with Pamela Cooper-White.
SPRING 2022
This course covers a wide range of literature related to trauma, including fiction, philosophy, theology and popular culture. Students explore the importance of understanding trauma – both personal and collective trauma – from a theological perspective.
CH/TS 388
The Theology of John Calvin
SPRING 2021
This course explores the political, social and theological context within which the theology of John Calvin emerged and its pertinence to ongoing socio-political and theological issues in the present day. Particularly useful for students interested in the Reformed traditions, this course covers selections from the entirety of Calvin's Institutes of the Christian Religion (1559).
Co-taught with Roger Haight.