Rev. Kosen Greg Snyder, Osho
Senior Director and Assistant Professor of Buddhist Studies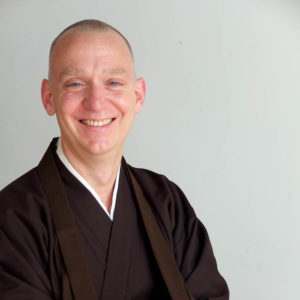 CONTACT
3041 Broadway, AD 520
New York, NY 10027
212-280-1491
gsnyder@uts.columbia.edu
BIOGRAPHY
Kosen Gregory Snyder is the Senior Director and Assistant Professor of Buddhist Studies at Union Theological Seminary, where he oversees the Master of Divinity degree program in Buddhism and Interreligious Engagement as well as the Thích Nhất Hạnh Program for Engaged Buddhism.
Professor Snyder is an ordained Zen Buddhist priest and dharma-transmitted teacher in the lineage of Shunryu Suzuki. He co-founded and is currently the senior resident priest at the Brooklyn Zen Center and Ancestral Heart Zen Monastery in Millerton, NY. He is one of the founders of the Buddhist Action Coalition, whose mission is to organize and inspire compassionate Buddhist initiatives in advancing social, economic, and environmental justice through advocacy and nonviolent direct action.
Professor Snyder's academic and practice interests include socially engaged Buddhism, the intersections of contemplative interreligious dialogue and social action, the relationship between Buddhist liberatory practices and social transformation, and the exploratory juxtaposition of Buddhism with liberation theology, Earth-centered cosmologies, and Western continental theory, particularly phenomenology and post-structuralism. Professor Snyder is currently working on a book exploring expressions of social justice rooted in Buddhist dharma, moral epistemology, and praxis. He has been published in Buddhist and other periodicals, including Buddhadharma, Lion's Roar, Shambhala Sun and the New York Times.
Recent Courses
IE 221
Introduction to Buddhist Meditation Practices
This course supports students of any faith tradition, or none at all, in learning the fundamentals of Buddhist meditation. While students only touch each of these practices, they learn the basics of concentration, ethical, wisdom and compassion meditations. The course aims to prepare chaplains and ministers for thinking about these techniques in their own lives and in their community support roles. The hope is students apply this knowledge to deepen practices appropriate to their lives and circumstances.
IE/PT 231
The Practice of Self-Inquiry
This course introduces students to methodologies of self-inquiry from various religious traditions as well as non- religious phenomenological thinkers. We explore meditation, contemplation and discernment practices, highlighting differences and complements. With a shared intention to clarify and expand personal methodologies and capacities of inquiry into ourselves, the course unpacks assumptions in our framing of subjective experience, how to locate the observer, the ground of awareness and, among other conventions, the relationships of self/other, mind/world, round/phenomena and mundane/sacred in each of these practices.
IE 234J
Buddhist Religious Thought
This general introduction to Buddhism surveys the history and development of Buddhist thought within its three broad expressions–Theravada, Mahayana, and Vajrayana. The aim of the course familiarizes students with Buddhist worldviews and offers an opportunity to engage the material critically. Students read a number of primary sources in translation as well as additional texts organized thematically and historically to contextualize this material.
IE 240
Socially Engaged Buddhism
This course explores tenets, movements, leading figures and issues central to what has come to be known as socially engaged Buddhism. In addition to exploring how these movements initially responded to the colonial and wartime contexts from which they emerged, students examine the critiques that engaged Buddhism offers current social and economic realities, as well as Buddhism's own institutions and practices.
IE/STX 342
Eihei Dogen Zenji: Writings and Practice
This course engages in a close reading of a selection of fascicles by Eihei Dogen Zenji, the Japanese Buddhist monk, philosopher, poet, essayist, and founder of the Sōtō school of Zen in Japan. In addition to this course involving considerable reading to provide context, Dogen's writing is often poetically complex and requires time. Also, Dogen is most widely known for his promotion of sitting meditation as a necessary practice for liberation and the metabolization of spiritual thought, making daily meditation a critical component of this course. Students should expect to be fully occupied for three weeks of textual study and practice.
IE/STX 342
Zen Buddhist Texts
This course explores the religious thought and practices of the Buddhist tradition that has come to be popularly known as Zen. Starting with its inception as Chinese Chan, students directly engage formative texts that situate Zen in its broader Mahayana context and go on to hermeneutically wrestle with the rich, unruly and at times opaque array of teachers, poems, koans and religious essays, which make up a tradition that understands itself to be "a special transmission outside the scriptures." All readings are in English translation.
IE 223
Comparative Buddhist-Christian Liberation Theologies
This class will provide a foundation in key theological and social concepts of Socially Engaged Buddhism and Latin American Christian Liberation Theologies. We will comparatively and critically engage themes such as Scripture, Buddha/Jesus, Karma/Sin, Body, Moral, Spiritual and Ritual Cultivation, Love/Compassion, Liberation/Salvation, Identity and Solidarity. An aspect of this course will be involvement with a community in our city around the themes discussed in class. There are no prerequisites for this course.